Sons and daughters everywhere have issues with mothers, stepmothers, in-laws, grandmothers and other mother-like figures.
Tired of putting on an act, some of you have been quite bold on and offline sharing some details about your childhood as well as present issues with relatives. If you have felt at times judged, lonely, angry, or crazed concerning your mother, play mother or someone else's, check out this enlightening book by
African American View on You
blog owner,
Tell Me Mother You're Sorry
by Nicholl McGuire.
In this personal, straight-forward, and truthful read, you will experience some eye-opening and thought-provoking information that will give you the courage, peace, and understanding to go low contact or no contact with relatives/in-laws in love. No more attitude, swallowing your pride, hurting on the inside, or watching everything you say with enablers--let go of those who simply don't mean you well! Some one understands and can validate you during this tough time with your relative.
May this book be a blessing and not a curse to you and those you love.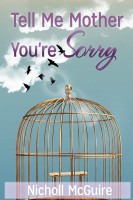 Sample is available
here.